Copies of Historic Pictorial Wythe County Map Temporarily Out of Stock
This map, entitled "Pictorial Map of Wythe County, 1790-1850," originally was displayed in the upper hall of F.B. Kegley's home, Rose Hill Farm, north of Wytheville. According to notes written by Mr. Kegley, the map was commissioned for a contest put on by the Virginia DAR. The artwork for the map was created by Elizabeth Waller Wilkins, a local artist who worked with Mr. Kegley on other projects. The roads shown on the map are from the time period prior to the Civil War. The houses depicted are drawn from photographs that were in many cases taken by Mr. Kegley. Unlike many of the items in the Kegley Library collection at WCC, this map is a one-of-a-kind item.
For years, visitors to the Kegley Library have admired the framed map, which was recently restored. Now, the Kegley Library is offering high-quality photographic prints of the map. The size of the reproduction is 20 inches high by 28 inches wide.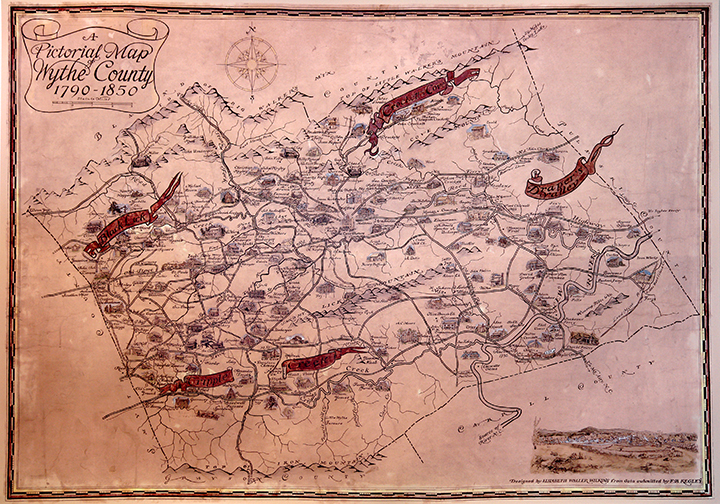 The image below depicts a portion of the map, shown in detail.