F.B. KEGLEY LIBRARY NOW A FAMILYSEARCH.ORG AFFILIATE LIBRARY
                The F.B. Kegley Library in Wytheville has partnered with FamilySearch.org to become an affiliate library.
As a FamilySearch affiliate library, researchers will have onsite access to more than two billion digitized records, including 400 million images that are not currently available to the public outside an affiliate library or a FamilySearch family history center.
                The F.B. Kegley library, located in Room 103, Smyth Hall, on the campus of Wytheville Community College, is now the only FamilySearch affiliate library within a radius of 30 miles. The onsite access to FamilySearch records is free to the public during regular library hours. Users must have, or obtain, a free FamillySearch.org account in order to view the additional resources, and access is only available through a Kegley Library computer station.
                "This is wonderful news for area researchers," said Bill Veselik, Archivist of the F.B. Kegley Library. "While anyone can access the basic FamilySearch collection from their own home computers, the additional 400 million images that will be available right in Wytheville at the Kegley Library will be a great addition to the resources we offer."
                The affiliation process required more than two years to complete, as FamilySearch.org had suspended its affiliate library program in order to revamp it. "It's my understanding that with FamilySearch providing more and more digital versions of previously microfilmed documents that the loaning of microfilm to outside libraries had virtually ended," explained Veselik. "I was after them for a long time, asking—almost pestering them—about when the new program would be available. As a result, the Kegley Library was one of the first affiliate programs approved after FamilySearch reestablished the program and revised its contract documents."
                Users must be at least 13 years of age to create a FamilySearch.org account. Available documents may be downloaded for the researcher's personal use, as long as the documents are not altered or republished without seeking appropriate permission.
                The F.B. Kegley Library also provides free onsite patron access to the databases of Ancestry.com, Fold3.com (military records), and Newspapers.com. "While the Kegley's extensive collection has long been focused on the Southwest Virginia region," said Veselik, "access to these databases truly opens the world to our genealogical researchers. For instance, I've personally explored 19th Century church and census records from what is now the Czech Republic from right here in Wytheville. Previously, that would have required me to travel—at great personal expense—to Eastern Europe. It's amazing what is available online now for researchers."
                The Kegley Library currently maintains more than 5,000 books, 8,000 photographs, and 150 manuscript collections, in addition to print and microfilm versions of a number of historical area newspapers.
** WCC will be closed on Monday, May 28, 2018 in observance of Memorial Day and Wednesday, July 4 in observance of Independence Day. **
WCC Library Summer Hours*
Monday-Thursday: 8:00 AM-7:00 PM
Fridays 8:00 AM-5:00 PM 
* There may be special hours for holidays or periods between academic semesters.
Special book exhibit through February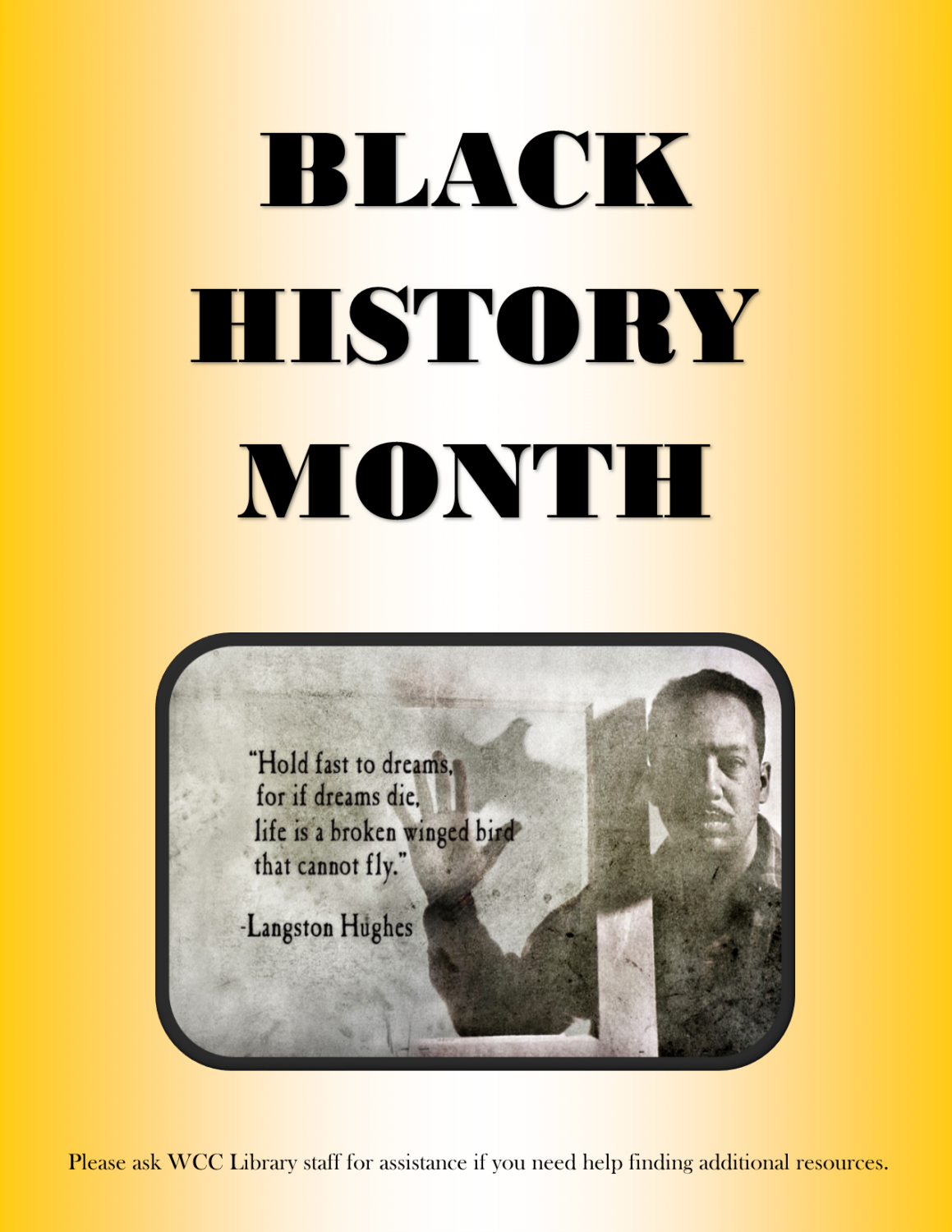 LIBRARY HOURS
The WCC Library is open Monday through Thursday from 8:00 A.M. until 7:00 P.M.
and Fridays 8:00 A.M.-5:00 P.M.

The Kegley Library is open Monday through Friday from 8:00 A.M.-5:00 P.M.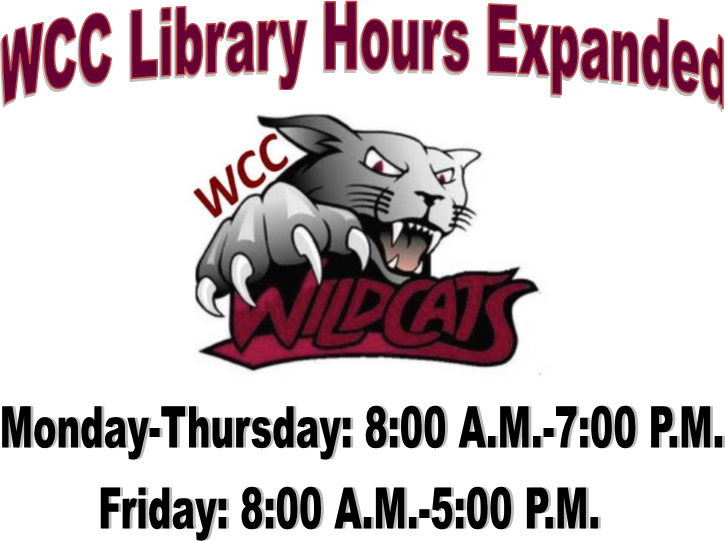 FREE COFFEE, HOT CHOCOLATE AND TEA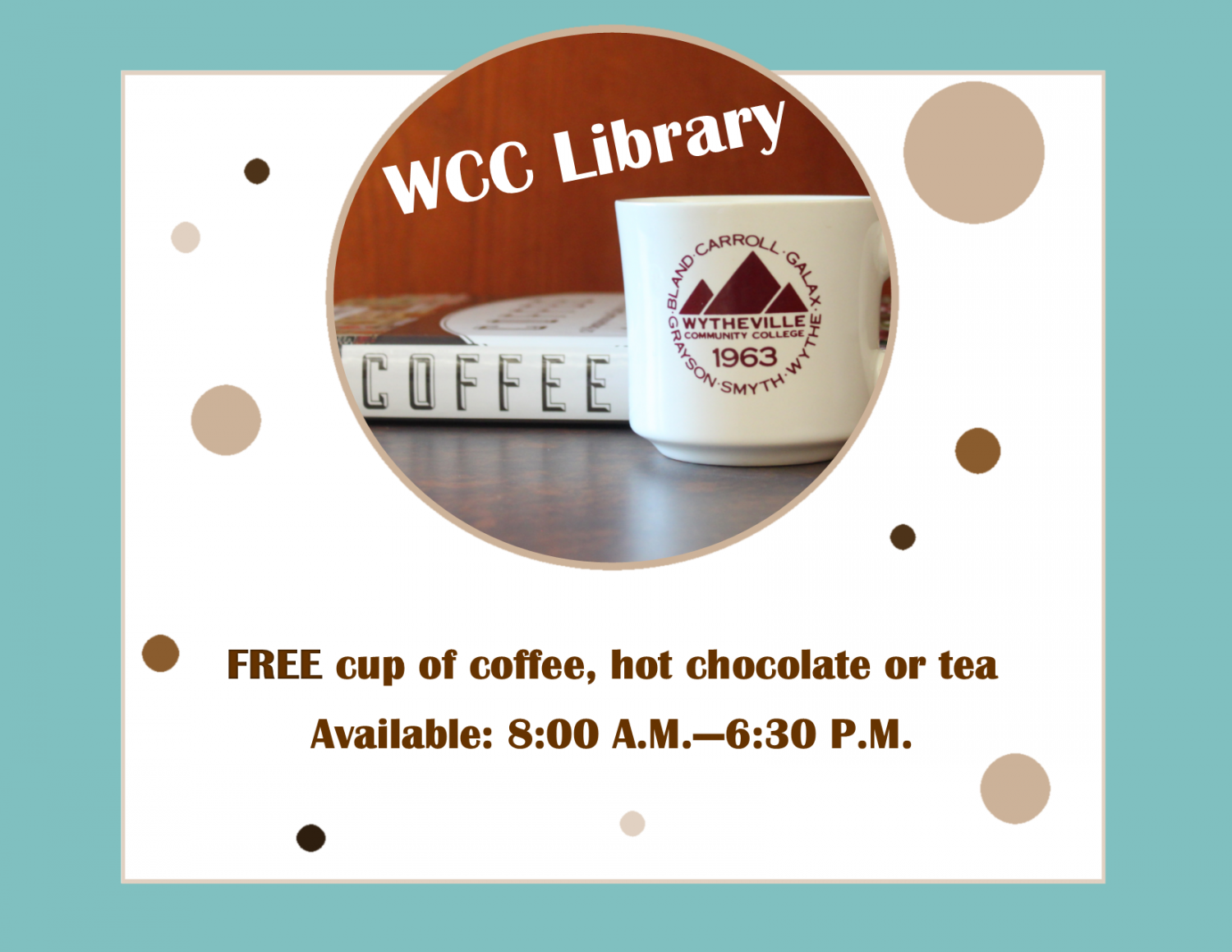 LIBRARY SERVICES 
FREE Wi-Fi
FREE coffee, hot chocolate and tea
FREE printing for WCC classes (10 cents for non-class materials)
Computers with high-speed Internet
Research assistance with journals & databases
Comfortable seating for breaks between classes
Interlibrary loans (borrowing from other libraries)
Popular bestsellers—fiction & non-fiction
Popular magazines & newspapers
Kegley Library (genealogy & regional history)
Vending machines
Group study/workroom
Study carrels