Wytheville Community College (WCC) graduate, Natalia Garcia, has found her path to a career as a teacher in the Associate of Arts and Sciences Degree in Education Program at WCC. Through the degree program Garcia has completed WCC's Education program, including many of the general education requirements, and she plans to transfer to a 4-year university to earn a Bachelor's Degree.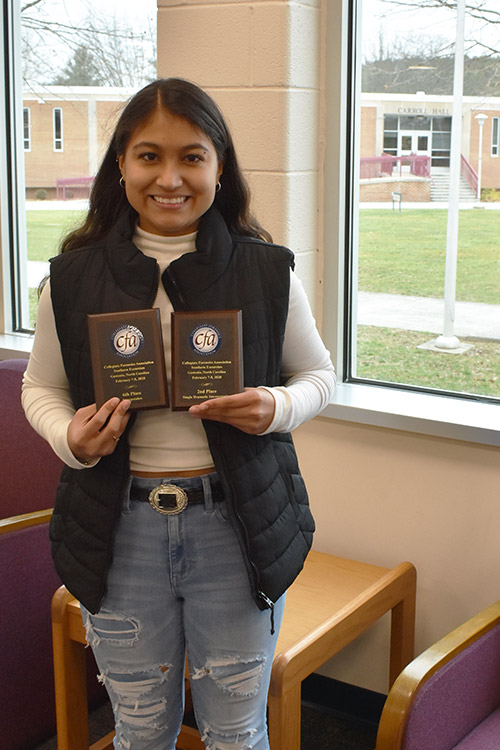 In WCC's Education Program, Garcia was given opportunities to explore the profession through the Introduction to Teaching course. She was able to shadow a teacher in the classroom as a part of the introductory class.
From a young age Garcia has wanted to become an elementary school teacher and drew inspiration from her kindergarten teacher, Roban Clear, at Atkins Elementary School in Atkins, Va. Garcia recalled how her experience at a young age, including learning English as a second language, had been a pivotal time in her life that set her on the trajectory to realizing her passion to teach.
Garcia, a 2019 graduate of Marion Senior High School, was impressed by WCC faculty and staff. She said, "Everyone [at WCC] was really helpful." 
Garcia wasn't only a star pupil in her classes at WCC, but she was also a stand-out member of the WCC Forensics Team. She took her love of forensics in high school to the team at WCC and exceled in Forensics competitions. When Garcia competed in early 2020 at the Collegiate Forensics Association (CFA) Southern Excursion tournament, she placed second overall in Single Dramatic Interpretation.
The Associate of Arts and Sciences Degree in Education is designed to provide a student the ability to transfer to a 4-year college or university to complete a baccalaureate program. Many Virginia 4-year colleges and universities offer guaranteed admission to WCC graduates that meet certain grade-point-average requirements. For more information about the Education degree program at WCC visit www.wcc.vccs.edu/program/education, or contact Susan Evans, Dean of Transfer and Educational Partnerships, at sevans@wcc.vccs.edu or (276)223-4740.
###