The most outrageous family reunion in Texas history is coming to the WCC stage in "The Red Velvet Cake War" by Jessie Jones, Nicholas Hope and Jamie Wooten. Playing Nov. 1-2, 8 and 9 at 7:30 p.m., this riotous comedy features the three Verdeen cousins, who are always one step away from catastrophe.
Gaynelle (Lorna King), Peaches (Tina Edwards) and Jimmie Wyvette (Frances Moore) are engaged in a winner-take-all contest with their Aunt LaMerle (Barbara Brown) to determine who can make the best red velvet cake, while simultaneously hosting the Verdeen family reunion and trying to prove to a court appointed psychologist (Shareen Williams) that Gaynelle is not insane. A one-eyed suitor (Clint Helton) and a wise-cracking uncle (Robert Burnett) combine with wacky neighbors (Lorrainea Burcham and Carol Easter) and a bumbling sheriff (Michael Easter) to complete the comic chaos.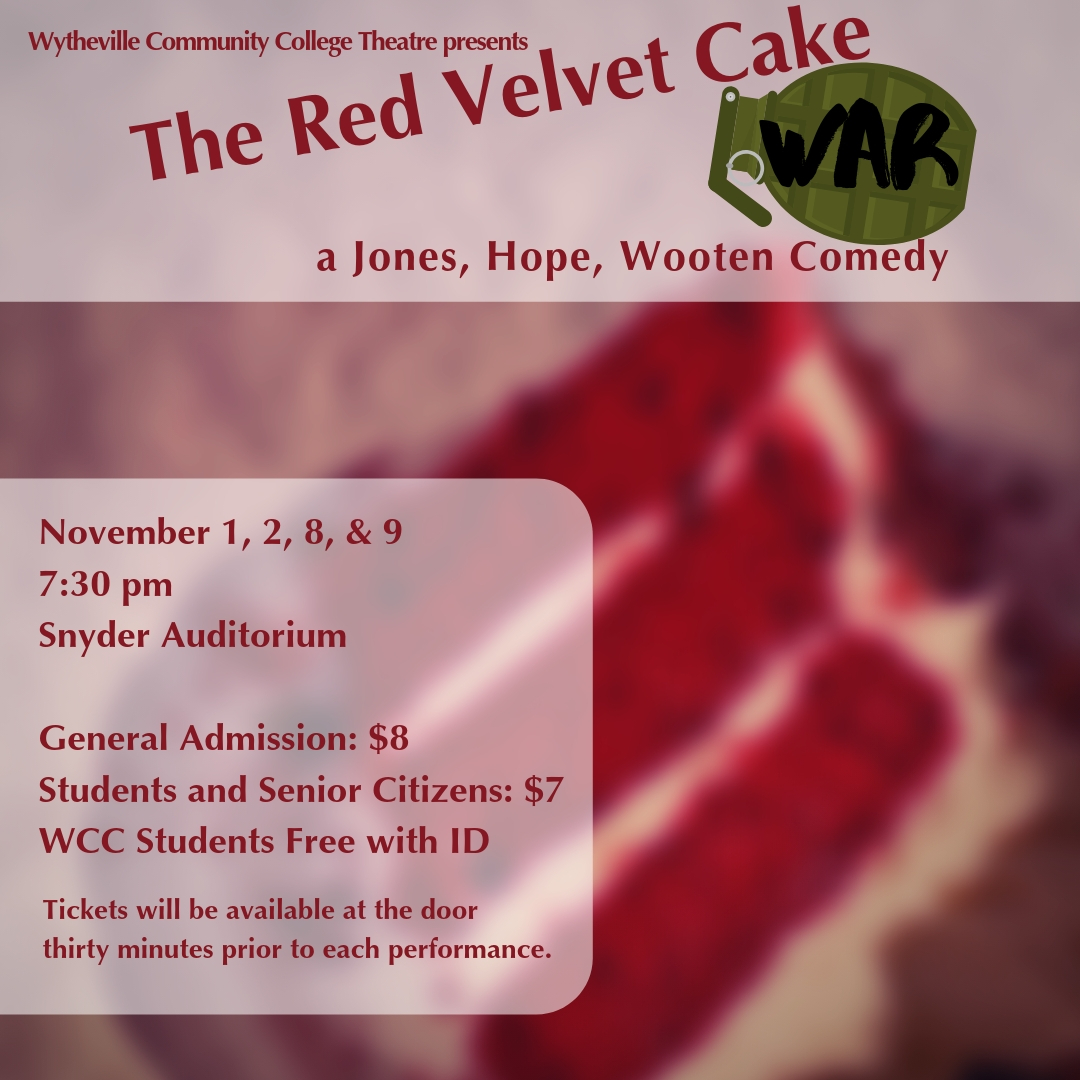 "We like Jones, Hope, and Wooten," explained director Janice Pryor when asked why they chose "The Red Velvet Cake War." "Fellow director Robert Burnett and I have already produced two of their comedies, 'Christmas Belles' and 'Southern Hospitality,' and our audiences really enjoyed their zany humor. The cast gets a kick out of exploring lots of different ways to make the audience laugh!"
Most of the action takes place in Gaynelle's living room, created by set designer Roger Dean Grubb, with occasional scenes set around the fictional town of Sweetgum, Texas. Coyote Edwards, lighting designer, makes sure the cast and set are always visible while Tina Edwards coordinates costumes and wigs for comic effect.
All performances begin at 7:30 p.m. in Snyder Auditorium at Wytheville Community College, 1000 East Main Street, Wytheville, Va. 24382. Ticket prices are $8 for general admission, $7 for senior citizens and students (any age, any school), and free for WCC students with ID. Tickets can be purchased in the lobby 30 minutes before each show.
###