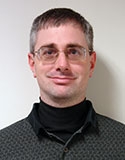 Professor, Computer Information Systems
Office Hours:
Monday 8:30AM - 10:30AM
Tuesday 8:30AM - 10:30AM; 1:30PM-3:30PM
Wednesday 8:30AM - 10:30AM
Thursday 8:30AM - 10:30AM
Personal Information
Degrees and Certifications:
B.S. Bluefield College
M.S. Marshall University
M.B.A. Morehead State University
Community Service Activities:
The best thing about working at WCC is...:
...hanging out with colleagues and students who are committed to higher education.
Current Teaching Schedule
Information Technology Essentials
ITE 115: Introduction to Computer Applications and Concepts

Introduction to Computer Applications and Concepts (3 cr.) Covers computer concepts and internet skills and use a software suite which includes word processing, spreadsheet, database, and presentation software to demonstrate skills required for computer literacy. Recommended prerequisite keyboarding skills.

| Class Number | Credits | Days | Dates | Class End Date | Time | Class End Time | Location | Building | Room | Class Section | Instruction Mode | Instructor | Class Notes |
| --- | --- | --- | --- | --- | --- | --- | --- | --- | --- | --- | --- | --- | --- |
| 37196 | 3 | M~~~~~~ | 2021-08-23 | 2021-12-17 | 11:00:00 | 12:15:00 | MAIN | Grayson Hall | 0235 | 1H | Hybrid | Costello,Keith P | Hybrid - This course meets in Grayson 235 on Monday from 11:00am to 12:15pm |
| 37231 | 3 | MTWRFSU | 2021-08-23 | 2021-12-17 | 04:18:00 | 04:19:00 | VIRTUAL | Virtual | 1 | 95 | Online w/E-Rate | Costello,Keith P | |
| 37232 | 3 | MTWRFSU | 2021-08-23 | 2021-12-17 | 04:19:00 | 04:20:00 | VIRTUAL | Virtual | 1 | 96 | Online w/E-Rate | Costello,Keith P | |
| 37233 | 3 | MTWRFSU | 2021-08-23 | 2021-12-17 | 04:20:00 | 04:21:00 | VIRTUAL | Virtual | 1 | 97 | Online w/E-Rate | Costello,Keith P | |
| 37236 | 3 | MTWRFSU | 2021-08-23 | 2021-12-17 | 04:21:00 | 04:22:00 | VIRTUAL | Virtual | 1 | 98 | Online w/E-Rate | Costello,Keith P | |
| 37238 | 3 | MTWRFSU | 2021-08-23 | 2021-12-17 | 04:22:00 | 04:23:00 | VIRTUAL | Virtual | 1 | 99 | Online w/E-Rate | Costello,Keith P | |
ITE 119: Information Literacy

Information Literacy (3 credits) Presents the information literacy core competencies focusing on the use of information technology skills. Skills and knowledge will be developed in database searching, computer applications, information security and privacy, and intellectual property issues. Lecture 3 hours per week.

| Class Number | Credits | Days | Dates | Class End Date | Time | Class End Time | Location | Building | Room | Class Section | Instruction Mode | Instructor | Class Notes |
| --- | --- | --- | --- | --- | --- | --- | --- | --- | --- | --- | --- | --- | --- |
| 46578 | 3 | MTWRFSU | 2021-08-23 | 2021-12-17 | 05:05:00 | 05:06:00 | VIRTUAL | Virtual | 1 | 95 | Online w/E-Rate | Costello,Keith P | |
| 46580 | 3 | MTWRFSU | 2021-08-23 | 2021-12-17 | 05:07:00 | 05:08:00 | VIRTUAL | Virtual | 1 | 96 | Online w/E-Rate | Costello,Keith P | |
Information Technology Networking
ITN 101: Introduction to Network Concepts

ITN 101 Introduction to Network Concepts ( 3 Credits) Provides instruction in networking media, physical and logical topologies, common networking standards and popular networking protocols. Emphasizes the TCP/IP protocol suite and related IP addressing schemes, including CIDR. Includes selected topics in network implementation, support and LAN/WAN connectivity.

| Class Number | Credits | Days | Dates | Class End Date | Time | Class End Time | Location | Building | Room | Class Section | Instruction Mode | Instructor | Class Notes |
| --- | --- | --- | --- | --- | --- | --- | --- | --- | --- | --- | --- | --- | --- |
| 37252 | 3 | MTWRFSU | 2021-08-23 | 2021-10-15 | 04:24:00 | 04:25:00 | VIRTUAL | Virtual | 1 | 95 | Online w/E-Rate | Costello,Keith P | |
ITN 106: Microcomputer Operating Systems

ITN 106 - Microcomputer Operating System - Teaches use of operating system utilities and multiple-level directory structures, creation of batch files, and configuration of microcomputer environments. May include a study of graphical user interfaces.

| Class Number | Credits | Days | Dates | Class End Date | Time | Class End Time | Location | Building | Room | Class Section | Instruction Mode | Instructor | Class Notes |
| --- | --- | --- | --- | --- | --- | --- | --- | --- | --- | --- | --- | --- | --- |
| 37250 | 3 | MTWRFSU | 2021-10-18 | 2021-12-17 | 04:25:00 | 04:26:00 | VIRTUAL | Virtual | 1 | 95 | Online w/E-Rate | Costello,Keith P | |
ITN 107: PC Hardware & Troubleshooting

ITN 107 - PC Hardware and Troubleshooting (3 Credits) Includes specially designed instruction to give a student a basic knowledge of hardware and software configurations. Includes the installation of various peripheral devices as well as basic system hardware components.

| Class Number | Credits | Days | Dates | Class End Date | Time | Class End Time | Location | Building | Room | Class Section | Instruction Mode | Instructor | Class Notes |
| --- | --- | --- | --- | --- | --- | --- | --- | --- | --- | --- | --- | --- | --- |
| 37244 | 3 | MTWRFSU | 2021-08-23 | 2021-10-15 | 04:26:00 | 04:27:00 | VIRTUAL | Virtual | 1 | 95 | Online w/E-Rate | Costello,Keith P | |
ITN 260: Network Security Basics

ITN 260: Network Security Basics (3 credits) Provides instruction in the basics of network security in depth. Includes security objectives, security architecture, security models and security layers; risk management, network security policy, and security training. Includes the give security keys, confidentiality integrity, availability, accountability and auditability.

| Class Number | Credits | Days | Dates | Class End Date | Time | Class End Time | Location | Building | Room | Class Section | Instruction Mode | Instructor | Class Notes |
| --- | --- | --- | --- | --- | --- | --- | --- | --- | --- | --- | --- | --- | --- |
| 37245 | 3 | MTWRFSU | 2021-10-18 | 2021-12-17 | 04:27:00 | 04:28:00 | VIRTUAL | Virtual | 1 | 95 | Online w/E-Rate | Costello,Keith P | |
Information Technology Programming
ITP 100: Software Design

Introduces principles and practices of software development. Course content includes instruction in critical thinking, problem solving skills, and essential programming logic in structured and object-oriented design using contemporary tools. Recommended prerequisite or corequisite is high school algebra.

| Class Number | Credits | Days | Dates | Class End Date | Time | Class End Time | Location | Building | Room | Class Section | Instruction Mode | Instructor | Class Notes |
| --- | --- | --- | --- | --- | --- | --- | --- | --- | --- | --- | --- | --- | --- |
| 39199 | 3 | MTWRFSU | 2021-10-18 | 2021-12-17 | 04:38:00 | 04:39:00 | VIRTUAL | Virtual | 1 | 95 | Online w/E-Rate | Costello,Keith P | |
ITP 120: Java Programming I

ITP 120 - JAVA PROGRAMMING I - Entails instruction in fundamentals of object-oriented programming using Java. This course emphasizes program construction, algorithm development, coding, debugging, and documentation of console and graphical user interface applications. Recommended prerequisite: ITP 100.

| Class Number | Credits | Days | Dates | Class End Date | Time | Class End Time | Location | Building | Room | Class Section | Instruction Mode | Instructor | Class Notes |
| --- | --- | --- | --- | --- | --- | --- | --- | --- | --- | --- | --- | --- | --- |
| 39200 | 4 | ~T~R~~~ | 2021-08-23 | 2021-12-17 | 09:05:00 | 10:45:00 | VIRTUAL-RT | Virtual | 1 | 95Z | Online w/E-Rate | Costello,Keith P | Class meets in real-time via Zoom on the days and times listed on your class schedule. Your instructor will facilitate live online lectures and discussions. Reliable internet access and a Zoom-capable device are required. |