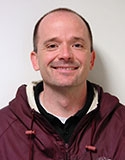 Associate Professor, Social Science
Office Hours:
Monday - 9:00 - 9:30 and 12:25 - 3:00
Tuesday - 9:00 - 3:00
Wednesday - 9:00 - 9:30 and 12:25 - 3:00
Thursday - 9:30 - 12:15 (Online)
Personal Information
Degrees and Certifications:
Undergraduate degree in Philosophy and Religion with a minor in Geology.
Masters degree in liberal studies with a concentration in Philosophy.
All course work for a masters in sociology and PhD in sociology
Community Service Activities:
Board member Attic Productions
Upward Basketball coach
Special Interests:
Filming Golf Volleyball Any sport Act/sing/dance/write
The best thing about working at WCC is...:
...being able to incorporate my personal life into my job. At WCC, I have always been encouraged to creatively intertwine my personal interests with my teaching job allowing me to engage my students more effectively and to create a fun learning environment.
Current Teaching Schedule
Humanities
HUM 100: Survey of The Humanities

HUM 100: Survey of The Humanities Introduces the humanities through the art, literature, music, and philosophy of various cultures and historical periods. Lecture 3 hours per week. 3 credits

| Class Number | Credits | Days | Dates | Time | Location | Building | Room | Class Section | Instruction Mode | Instructor | Class Notes |
| --- | --- | --- | --- | --- | --- | --- | --- | --- | --- | --- | --- |
| 12226 | 3 | MTWRFSU | 2021-01-11 - 2021-05-10 | 01:38:00 - 01:39:00 | VIRTUAL | Virtual | 1 | 95 | Online w/E-Rate | Lawson,John C | |
| 12227 | 3 | MTWRFSU | 2021-01-11 - 2021-05-10 | 01:39:00 - 01:40:00 | VIRTUAL | Virtual | 1 | 96 | Online w/E-Rate | Lawson,John C | |
HUM 260: Survey of Twentieth-Century Culture

HUM 260: Survey of Twentieth-Century Culture (3 credits) Explores literature, visual arts, philosophy, music, and history of our time from an interdisciplinary perspective. Lecture 3 hours per week.

| Class Number | Credits | Days | Dates | Time | Location | Building | Room | Class Section | Instruction Mode | Instructor | Class Notes |
| --- | --- | --- | --- | --- | --- | --- | --- | --- | --- | --- | --- |
| 12228 | 3 | MTWRFSU | 2021-01-11 - 2021-05-10 | 05:05:00 - 05:06:00 | VIRTUAL | Virtual | 1 | 95 | Online w/E-Rate | Lawson,John C | |
Philosophy
PHI 220: Ethics

PHI 220 Provides a systematic study of representative ethical systems. Lecture 3 hours per week.

| Class Number | Credits | Days | Dates | Time | Location | Building | Room | Class Section | Instruction Mode | Instructor | Class Notes |
| --- | --- | --- | --- | --- | --- | --- | --- | --- | --- | --- | --- |
| 12232 | 3 | MTWRFSU | 2021-01-11 - 2021-05-10 | 01:43:00 - 01:44:00 | VIRTUAL | Virtual | 1 | 95 | Online w/E-Rate | Lawson,John C | |
| 12233 | 3 | MTWRFSU | 2021-01-11 - 2021-05-10 | 01:44:00 - 01:45:00 | VIRTUAL | Virtual | 1 | 96 | Online w/E-Rate | Lawson,John C | |
Sociology
SOC 200: Principles of Sociology

SOC 200 Introduces fundamentals of social life. Presents significant research and theory in areas such as culture, social structure, socialization, deviance, social stratification, and social institutions. Lecture 3 hours per week.

| Class Number | Credits | Days | Dates | Time | Location | Building | Room | Class Section | Instruction Mode | Instructor | Class Notes |
| --- | --- | --- | --- | --- | --- | --- | --- | --- | --- | --- | --- |
| 12238 | 3 | MTWRFSU | 2021-01-11 - 2021-05-10 | 01:47:00 - 01:48:00 | VIRTUAL | Virtual | 1 | 95 | Online w/E-Rate | Lawson,John C | |
| 12239 | 3 | MTWRFSU | 2021-01-11 - 2021-05-10 | 01:48:00 - 01:49:00 | VIRTUAL | Virtual | 1 | 96 | Online w/E-Rate | Lawson,John C | |