WCC Kicks Off 55th Anniversary: Recognizes Grayson County Family of WCC Alumni
Grandfather, Grandson Graduate from WCC 50 Years Apart
                As Wytheville Community College (WCC) celebrates its 55th Anniversary, the college is excited to have the opportunity to recognize successful alumni. 

                "WCC has a long history of providing educational opportunities for the literary thousands of students from the local area," said Dr. Dean Sprinkle, WCC President.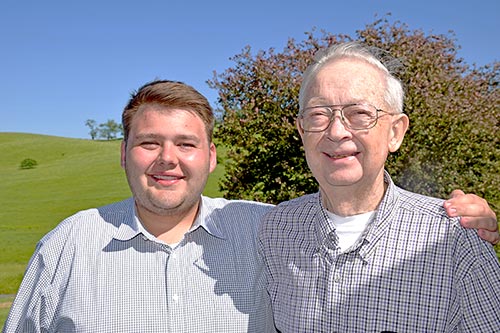 "Our 55th Anniversary is the perfect time to share stories of just a few of our alumni, beginning with a feature of Harry Sutherland who was a member of WCC's first graduating class in 1965 and his grandson, Cade Phillips, who graduated 50 years later in 2015. Additional stories of other alumni will be shared throughout the coming year."

                As part of the celebration, WCC plans to highlight alumni from each of the WCC graduating classes, beginning with the Class of 1965.
Harry Sutherland—WCC Class of 1965
                When WCC opened its doors in 1963, the college was a branch campus of Virginia Polytechnic & State University. During its first year of operation the college employed five full-time faculty and enrolled 107 students. Harry Sutherland was one of those students, and he enrolled in the accounting program. He graduated two years later, holding the honor of being a member of WCC's first graduating class.
                During his time at WCC, Harry remembers carpooling with others from Grayson County to WCC's first location in the Simmerman Building. 
                He noted that he believes that he received a great education at WCC. 

                "The faculty really wanted you to learn," said Harry.

                He fondly remembers Richard "Perky" Perkins who taught accounting and economics; Hubert LeGuin who taught economics and political science; and James Branscome who taught history. 
                Beyond memories of classwork, Harry also remembers studying and playing cards in the student lounge. 

                "I made a lot of friends at WCC," said Harry. "I still keep in touch with many of them. WCC was a great experience for me.  It has given local students in southwest Virginia the opportunity to begin their college education and then transfer to four-year colleges and universities."
                Following his graduation from WCC, Harry transferred to Virginia Tech. As part of his studies, he accepted a summer internship at the Radford Arsenal which turned into a permanent position when he graduated from Virginia Tech. 
 
                "I worked as an accountant and auditor. One of the most challenging jobs was reconciling bank accounts with literally tens of thousands of checks per month. I was often sent in to trouble-shoot when there were problems with accounting controls," said Harry. 
                After earning his bachelor's degree from Virginia Tech and working at Radford Arsenal, in December 1969, Harry joined the accounting firm of Cole & Armbrister in Wytheville, Va.  In 1985, he opened his own accounting firm in Wytheville.  He sold his firm in 2008 and retired, but the following week he went to work for Persingers and Company in Galax where he still continues to work.
Cade Phillips—WCC Class of 2015
                Fifty years later after Harry graduated from WCC, his grandson, Cade Phillips, followed in his grandfather's footsteps and graduated from WCC in May 2015 with an associate's degree in Business Administration. 
                The oldest son of Harry's daughter Amy, Cade graduated from Grayson County High School in 2014. He completed several dual enrollment classes through WCC while in high school and chose to attend WCC.
                "I could live at home and work at Food City," said Cade. "I saved a ton of money and got great one-on-one instruction in my classes. I learned how to study better before transferring."
                Cade was complimentary of WCC faculty, noting that Colene Kilgore, Associate Professor of Accounting, and Jason Lachniet, Assistant Professor of Mathematics, were especially helpful to him during his time at WCC.
                At WCC, Cade got involved in several extra-curricular activities. He participated in the Student Government Association and served on the WCC Legislative Advocacy Team, representing WCC in meetings with local legislators in the Virginia General Assembly. Cade was also inducted into Phi Theta Kappa, the college's honor society and was elected by his peers to serve as Treasurer. 
                Like his grandfather, Cade transferred from WCC to Virginia Tech and subsequently earned a Bachelor's Degrees in Finance with a focus in financial planning. He graduated from Virginia Tech in 2018 and is currently employed as a financial advisor with AFS 401(K) in Bethesda, Md.
                The year after Harry graduated, in 1966, WCC became of member of the newly established Virginia Community College System. Currently, WCC employs 100 full-time and 163 part-time faculty and staff, and during 2017-18 served 3,483 students. Both Harry and Cade are natives of Elk Creek in Grayson County.
Helpful Links