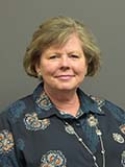 Administrative Assistant to the Associate Vice President of Finance
Office Hours:
8 a.m.- 5 p.m. Monday-Friday
Personal Information
High School Attended:
Central High School Knoxville
Degrees and Certifications:
B.S. in General Business, UT, Knoxville
B.S. in Finance, UT, Knoxville
Special Interests:
Rescue dogs Reading UT Football
The best thing about working at WCC is...:
...the interaction with the students. Students are unique not only in their studies, but their backgrounds. Our students may be from out of state, or first generation locals continuing their education, or going back to school after being a homemaker for years. Everyone has a unique story and unique expectations from being a part of WCC. The second incredible significant difference that WCC has is the opportunity to be involved in different programs offered here on campus. Being part of the Support Staff Assembly has given me opportunities to meet and be a part of a campus change and focus.