Going to college can be difficult, especially for a first-generation college student, but at Wytheville Community College (WCC), Project AIM provides the additional support needed for success. Aya Elalfy is one of the students who was able to take advantage of the Student Support Services program funded by the United States Department of Education that WCC calls Project AIM. Elalfy found not only the support for college but also what she refers to as a family to advise, coach, and cheer for her as she worked toward her educational goals.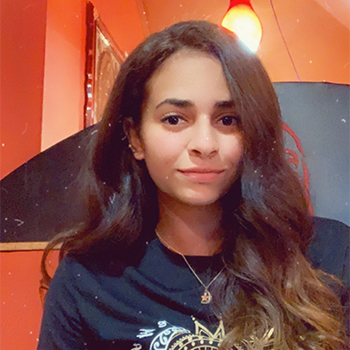 A college degree is more than the individual's hard work; it is the culmination of support from friends and family. Project AIM was that family of support for Elalfy and provided the base that encouraged her to continue pushing toward her goals. Elalfy says that Project AIM helped her stay positive throughout her studies at WCC.
"Project AIM was like a second family," said Elalfy. "They helped me get through a lot of stuff and were always there for me."
Elalfy is a student who is more comfortable with in-person classes, so it was difficult for her when classes were transitioned to the online format as a result of the COVID-19 pandemic. She attributes her ability to finish the semester strong and graduate to the help from friends that she met in Project AIM, Project AIM staff, and WCC instructors. Often while completing her classes online, she would call friends and work together remotely to complete assignments. Elalfy's creative solutions to the problematic switch to online courses is a testament to the resilience of many WCC students during the spring 2020 semester.
Elalfy successfully completed her Associate of Arts and Sciences Degree in General Studies this spring and plans to transfer to Radford University in the fall to pursue a degree in Design with a concentration in Interior Design. She is thankful for the help of Project AIM and WCC to achieve an associate degree. She says that WCC's inclusive atmosphere helped her to get to know new people and has given her the base she needed before transferring to a 4-year college.
Since 1970 WCC's Project AIM has given students the resources and support to succeed. As a federally funded TRIO program, Student Support Services, or "Project AIM," has provided services to hundreds of WCC students. The program's mission is to provide support services to eligible WCC students to enhance academic performance to increase their retention, graduation, and transfer rates. For more information about Project AIM, visit www.wcc.vccs.edu/project-aim or contact Charlotte Mowery, Project AIM Coordinator, at (276)223-4756 or cmowery@wcc.vccs.edu.
###