The Wytheville Concert Series continues on Saturday, December 7, 8 p.m. at St. Paul United Methodist Church, with Leslie Mabe and The Rainer Trio for "Christmas Favorites." The program includes "The Nutcracker," "Sleigh Ride," "Have Yourself a Merry Little Christmas," and "O Holy Night" to get everyone in the holiday spirit.
Lyric soprano Leslie Fox Mabe hails from Big Stone Gap, a small coal-mining town deep in the mountains of Southwest Virginia. Mrs. Mabe studied music education at Radford University and voice with New York City Opera's famed mezzo-soprano Clarity James. Mabe has performed leading and supporting roles in numerous musicals, including "Hello, Dolly," "Oklahoma," "The Music Man," "West Side Story," "Godspell" and "Fiddler on the Roof." She has been a featured soloist in numerous choral productions with Blacksburg Master Chorale and the Wytheville Community College Choir. She was recently the featured soloist in "Our Father: A Journey Through the Lord's Prayer" by Pepper Choplin at Carnegie Hall in New York City.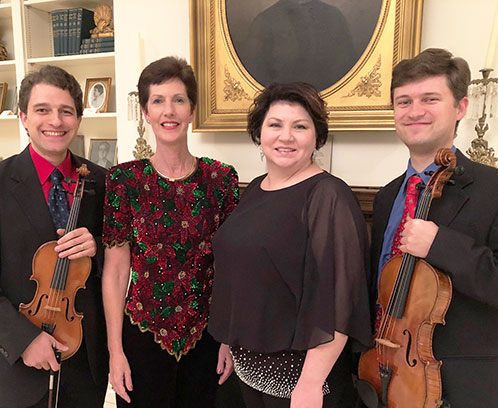 Pianist Brenda Wittwer has been an accompanist for Theater Charlotte, Pfeiffer University Concert Choir, and Sounds of America, a musical group that toured the 48 contiguous states. With the Wytheville Community College Choir, she has performed at Lincoln Center and Carnegie Hall in New York City.
Admission is free, but donations will be accepted to support the musicians and the Wytheville Community College Food Bank.
Wytheville Concert Series performances are presented by Wytheville Community College, St. Paul United Methodist Church, St. John's Episcopal Church, the WCC Educational Foundation, and MacDowell Music Club and are under the artistic direction of Kevin Matheson. For more information, please visit www.ClassicStringsDuo.com.