Wytheville Community College (WCC) student, Carmen Walton, is a single mother of five trying to find a way to become self-sufficient and self-reliant to provide for her family. Thanks to the funding from the Get a Skill, Get a Job, Get Ahead (G3) program at WCC, Walton has found a pathway to a new career.
Walton initially explored the offering at WCC to help her son find a career path of interest, but instead, she found something that interested her. She noted that she had reached out to Construction Trades instructor, Danny Choate, about the program, and he shared with her information about the new G3 program that could help pay for tuition.
"I believe in community colleges," says Walton. "They always offer the programs that the community needs. And attending community college is more affordable than four-year colleges or universities."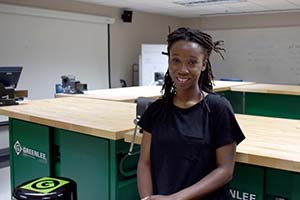 The G3 program gave Walton the ability to switch her career without the worries about how she would be able to pay college tuition.
"For me G3 was a miracle, and it was right on time," says Walton. "It feels like I am in the right place at the right time."
G3 is a tuition assistance program that is available to fill in-demand career fields in Virginia. Students who qualify and are enrolled in an eligible program like Construction Trades are awarded G3 funding after they complete their financial aid file, which includes their "Free Application For Student Aid" (FAFSA) and other relevant documentation.
To find out more information about G3, go to www.wcc.vccs.edu/g3. Filling out the contact form will put you in touch with a G3 advisor who can help you apply to WCC, get registered for a G3 eligible program, and complete your financial aid file. Or contact G3 advisors, Virginia Hollar at (276)223-4714 or Caitlin Fanning at (276)223-4739.
###
Helpful Links