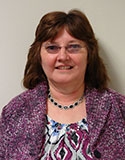 Admin. Asst. Workforce Development
Office Hours:
Monday 8:30 a.m. - 5:00 p.m.
Tuesday 9:30 a.m. - 5:00 p.m.
Wednesday 8:30 a.m. - 4:00 p.m.
Thursday 8:30 a.m. - 4:00 p.m.

Personal Information
Degrees and Certifications:
Certification-Introduction to MS Excel
Certification-Intermediate MS Excel
Certification-Fundamentals of Accounting
Certification-Pearson VUE Testing
Community Service Activities:
Fostercare for Wythe County Social Services
Special Interests:
Helping children or students who are underprivileged, fostercare
The best thing about working at WCC is...:
...being able to work with students and help them with any questions they may have about their class. I enjoy working with the faculty here also. It's like working with a big family. We care about the students and each other, and we want all the students to be successful.