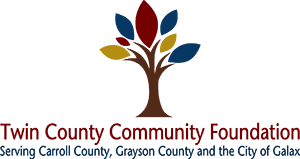 Twin County Community Foundation Scholarship Program
at
Wytheville Community College
Beginning Fall 2019
The scholarship program will provide last dollar tuition and fees for five health programs at WCC:
Dental Hygiene
Medical Laboratory Technician
Nursing (RN)
Physical Therapist Assistant
Practical Nursing (LPN)
Scholarship recipients must have been a resident of the Twin County Region (Carrol County, Grayson County, or Galax City) for the last two years and have completed their last two years of high school at and have graduated from either:
Carroll County High School
Galax High School
Grayson County High School
Private schools in the Twin Counties
Homeschool

or GED
Scholarship recipients must be U.S. citizens or permanent residents and provide "Proof of Residency" for the two years prior to high school graduation.
Scholarship recipients can receive up to five consecutive semesters of tuition, beginning the fall semester after high school graduation (Fall, Spring, Summer, Fall, Spring) plus the Summer semester in between the first and second year.
Scholarship recipients must complete 10 hours of volunteer service for each semester they receive assistance during their time at WCC. Service must be completed at an approved volunteer agency.
Scholarship recipients must have a cumulative 3.0 grade point average in high school.
Scholarship recipients must apply for the scholarship and seek all available financial aid, including federal and state aid.
Scholarship recipients must achieve a minimum of a 2.0 grade point average by the end of their first year at WCC and complete a minimum of 67 percent of all classes at WCC to continue receiving the scholarship in their second year.