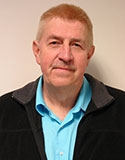 Interim Dean of Health & Occupational Program
Office Hours:
Monday: 7AM to 8AM & 11:10AM to 12:25PM
Tuesday: 7AM-8AM; 11:20AM-12PM; 1:15PM-2:15PM
Wednesday: 7AM to 8AM & 11:10AM to 12:25PM
Thursday: 7AM-8AM; 11:20AM-12PM
Friday: By Appointment Only
Personal Information
Degrees and Certifications:
Postgraduate Professional License
M.S. Career and Technology Education
B.S. Vocational, Technical Education
A.A.S. Business Administration
Diploma, Machine Technology
Awards:
Distinguished Service Award in Teaching 2005
Improvement of Instructions Award 2015
Community Service Activities:
Special Interests:
Bluegrass music
Wood working
Metal working
Camping
The best thing about working at WCC is...:
...the people that I work with.