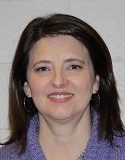 Associate Professor, Dental Hygiene/Dental Assisting
Office Hours:
Monday: 1:15PM-2PM; Virtual: 3PM-5PM
Tuesday: 8AM-10:30AM; 11:20AM-12PM
Wednesday: 1:15PM-2PM
Thursday: 8AM-9:15AM; 11:20AM-12PM; 2PM-3PM

Personal Information
Degrees and Certifications:
M.S.Ed. Technical and Vocational Education, Virginia Tech
B.S. Health Services Administration, West Virginia Tech
A.S. Dental Hygiene, West Virginia Tech
Community Service Activities:
WCC Community Halloween Celebration
RAM Clinic
Granada Theatre Preservation
Christ Episcopal Church, Altar Guild
Special Interests:
Hobbies include:
University of South Carolina football
Walking, especially with my dog
Dollhouse restorations
The best thing about working at WCC is...:
...working with my students and helping them develop their professional skills to be successful in their workplace.
Current Teaching Schedule
Dental Hygiene
DNH 143: Dental Hygiene III

DNH 143 Introduces dental health care for clients with special needs. Includes introduction to computer concepts and applications. Provides supervised clinical practice in the dental hygiene clinic with emphasis on refining client treatment and instrumentation skills, including oral radiographs. Lecture 2 hours. Clinic 6 hours. Total 8 hours per week.

| Class Number | Credits | Days | Dates | Time | Location | Building | Room | Class Section | Instruction Mode | Instructor | Class Notes |
| --- | --- | --- | --- | --- | --- | --- | --- | --- | --- | --- | --- |
| 14498 | | MTWRFSU | 2021-05-17 - 2021-07-01 | 02:03:00 - 02:04:00 | VIRTUAL | Virtual | 1 | 95 | Online w/E-Rate | Thomas,Staci Stafford | |
| 14500 | 4 | MTWR~~~ | 2021-05-17 - 2021-07-01 | 07:30:00 - 12:00:00 | MAIN | Galax Hall | 0128 | 10L | In Person | Thomas,Staci Stafford | |
| 14501 | 4 | MTWR~~~ | 2021-05-17 - 2021-07-01 | 13:00:00 - 17:30:00 | MAIN | Galax Hall | 0128 | 11L | In Person | Thomas,Staci Stafford | |