FREE COFFEE AND TEA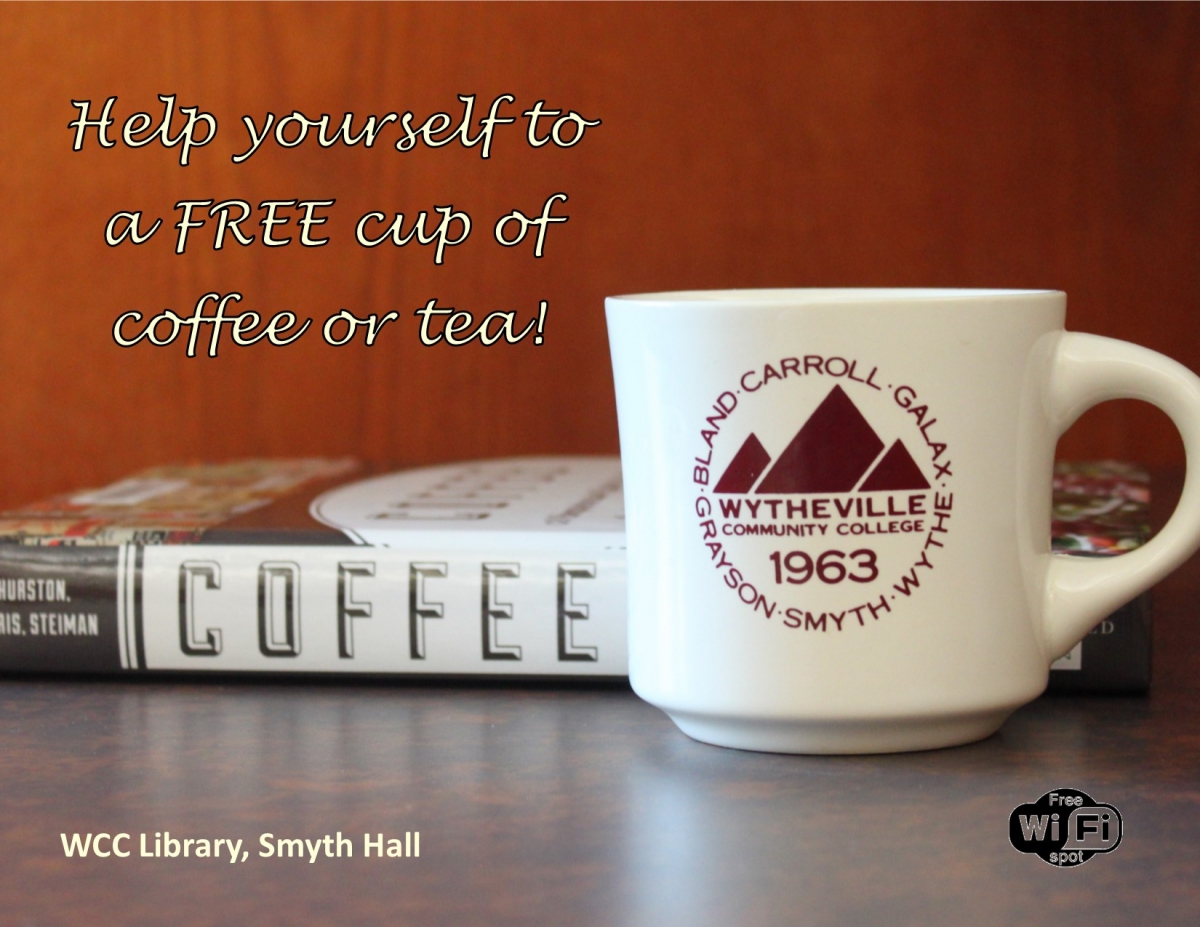 The WCC Library now offers free, hot coffee and tea  in the library during regular operating hours, Monday through Friday, 8 AM-5 PM.  
NEW POPULAR BOOKS - September 2015
The following new books were recently added to WCC's Popular Collection located in the center of the library:
Box, C.J.  Badlands.

Collins, Suzanne.  The Hunger Games.

Collins, Suzanne.  Catching Fire.

Collins, Suzanne.  Mockingjay.

Coulter, Catherine.  Nemesis.

Leonard, Elmore.  Charlie Martz and Other Stories.

Reichs, Kathy.  Speaking in Bones.

Roth, Veronica.  Divergent.

Roth, Veronica.  Insurgent.

Roth, Veronica.  Allegiant.

Roth, Veronica.  Four.

Silva, Daniel.  The English Spy.

Thor, Brad.  Code of Conduct.

Ward, J.R.  The Bourbon Kings.
New Materials for the Main and Reference Collections
REFERENCE BOOKS
The Encyclopedia of the Wars of the Early American Republic, 1783-1812   Ref E301.E63 2014
Encyclopedia of White-Collar and Corporate Crime   Ref HV6768.E63 2013
Immigrants in American History: Arrival, Adaptation, and Integration   Ref JV6450.I5536 2013
Gale Encyclopedia of Everyday Law   Ref KF387.G27 2013
The Gale Encyclopedia of Environmental Health   Ref RA565.G33 2013
CLASS D: HISTORY (GENERAL)
Klein, Maury, 1939-   A Call to Arms: Mobilizing America for World War II   D769.2.K54 2013
Daddis, Gregory A., 1967-   Westmoreland's War: Reassessing American Strategy in Vietnam   DS557.7.D27 2014
Ciment, James   Another America: The Story of Liberia and the Former slaves Who Ruled It   DT631.C56 2013
CLASS EF: AMERICAN HISTORY
The Civil Rights Moment in America: From Black Nationalism to the Women's Political Council   E185.61.C148 2015
Fiske, David (David A.), 1954-   Solomon Northup: The Complete Story of the Author of Twelve Years a Slave   E444.N87.F57 2013
Cooling, Benjamin Franklin, III, 1938 -   Jubal Early: Robert E. Lee's Bad Old Man   E467.1.E13.C66 2014
Guide to the Richmond-Petersburg Campaign   E476.93.G85 2014
Warren, Elizabeth   A Fighting Chance   E901.1.W37.A3 2014
Mills, Eric, 1959-   Chesapeake Bay in the Civil War   F187.C5.M55 1996
Freed, Leonard   This Is the Day: The March on Washington   F200.F74 2013
Bockstruck, Lloyd DeWitt   Virginia's Colonial Soldiers   F225.B63 1988
Staten, Clifford L.   The History of Cuba   F1788.S695 2015
CLASS G: GEOGRAPHY
Careers in Environment & Conservation   GE60.C375 2014
CLASS H: SOCIAL SCIENCES
Careers in Business   HF5382.5.U5.C375 2014
CLASS J: POLITICAL SCIENCE
WHISTLEBLOWERS   JF1525.W45.W457 2015
U.S. National Debate Topic, 2015-2016: Surveillance   JK468.S4.U8 2015
CLASS K: LAW
The Scottsboro Boys in the Their Own Words: Selected Letters, 1931-1950   KF224.S34.S35 2014
The Supreme Court   KF8742.S86 2015
Stephen, John A.   Officer's Search and Seizure Handbook: 2015 State to State Case Summaries   KF9630.S73 2015
CLASS P: LANGUAGE AND LITERATURE.
Great Tales of Horror & the Supernatural   PS648.H6.A732 1985
Coodley, Lauren   Upton Sinclair: California Socialist, Celebrity Intellectual   PS3537.I85.Z59 2013
Childers, Sarah Beth, 1982-   Shake Terribly the Earth: Stories from an Appalachian Family
PS3603.H554.Z46 2013
CLASS Q: SCIENCE
Eldredge, Niles   Extinction and Evolution: What Fossils Reveal about the History of Life   QE711.3.E43 2014
Lister, Adrian   Mammoths & Mastodons of the Ice Age   QE882.P8.L573 2014
CLASS R: MEDICINE
The Praeger handbook on Women's Cancers: Personal and Psychosocial Insights   RC281.W65.P73 2014
Gunn, Jacqueline Simon   Borderline Personality Disorder: New Perspectives on a Stigmatizing and Overused Diagnosis   RC569.5.B67.G87 2015
How Nursing Has Changed with Technology   RT1.N77 June 2015
Kelly, James, 1948-   Where Night is Day: the World of the ICU   RT120.I5.K45 2013
CLASS T: TECHNOLOGY
Johnson, Rody   Chasing the Wind: Inside the Alternative Energy Battle   TJ820.J66 2014
Rieger, Bernard, 1967-   The People's Car: A Global history of the Volkswagen Beetle   TL215.V6.R54 2013\
KEGLEY LIBRARY
Dodson, E. Griffith (Edward Griffith), 1884-1969   The General Assembly of the Commonwealth of Virginia 1919-1939   Kegley JK3930.A6 1939 Non-Circ