Thanks to the generous support of students, alumni and community members, Wytheville Community College Bookstore has successfully met the $1,000 matching challenge from Follett Higher Education Group. The donations will help provide additional support for the campus food pantry.
The Virginia Community College System (VCCS) Hunger Project helped raise money for the campus food bank by accepting customer donations at the register. Follett Higher Education Group matched donations up to $1,000.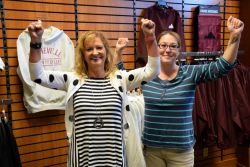 An anonymous gift of $1,000, given in honor of Dr. Rhonda Catron-Wood, helped the college meet the challenge. Dr. Catron-Wood serves as vice president of institutional advancement and has served the college for 28 years.
"I am very humbled by this very generous anonymous gift in my honor," said Catron-Wood.  "Addressing the food insecurity needs of our students is critical to helping students succeed and build better lives for themselves and their families. I greatly appreciate the WCC Bookstore, the Follett Higher Education Group, the anonymous contributors, and WCC students, staff, and faculty who supported this important project."
In 2014, the WCC Support Staff Assembly established an on-campus food pantry meant to serve WCC students in need. Staff at WCC's site at the Crossroads Institute in Galax also established a food pantry to help meet the needs of students taking classes at that location. A recent grant from the Anthem Blue Cross and Blue Shield Foundation has enabled WCC to also establish a food pantry at WCC's location at the Summit Center in Marion. Hundreds of items have been donated to help students, and the college continues to operate the food pantry at all three campus locations.
About Wytheville Community College Bookstore
Wytheville Community College Bookstore is solely devoted to serving the Wytheville Community College community – offering products and services to students, faculty, staff and the local Wytheville community both in store and online at eFollett.com. Wytheville Community College Bookstore is located at Wytheville Community College Bookstore, Bland Hall, 1000 E. Main Street and is open 8 a.m. to 5 p.m., Monday through Friday. Stop in today to meet the campus store manager, Marsha Otey.
About Follett Corporation | Follett.com
Follett Corporation is the world's largest single source of educational materials, digital content, e-commerce, and multi-media for libraries, schools and institutions.
Headquartered in Westchester, Ill., Follett provides education technology, services and physical and digital content to millions of students at 70,000 schools, and more than 2,700 physical locations, and campus e-commerce platforms in North America. Through Baker and Taylor, Follett's reach also extends to the public library markets.
###