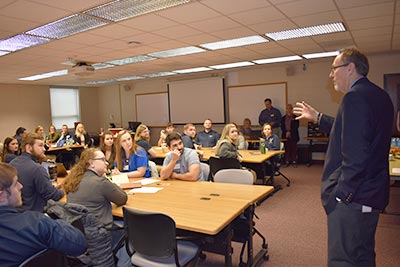 Emory and Henry College Doctor of Physical Therapy students visited Wytheville Community College (WCC) on February 15, 2019, to participate in collaborative learning exercises with WCC's second-year  Physical Therapist Assistant students. The students from both colleges used the opportunity to practice physical therapist and physical therapist assistant teamwork. Tabletop exercises were used to help students become familiar with how the partnership of the two occupations might occur in a variety of clinical settings. The event also fostered networking opportunities among students who are likely to work together following graduation.
This is the third year of the collaborative program, which includes two days: one at WCC and one at Emory & Henry's School of Health Sciences located in Marion, VA.  The second day of the program will allow both sets of students to practice hands-on patient care simulations using standardized patients in the Emory & Henry College of Health Sciences Simulation Lab.  
"This is a tremendous opportunity for the Physical Therapist Assistant students at WCC and the Emory and Henry DPT students to learn from each other about how they may interact in the workforce," stated Dr. Dean Sprinkle, WCC President.
WCC's Physical Therapist Assistant Program is accredited by the Commission on Accreditation in Physical Therapy Education (CAPTE. The program was established in 1986 to provide students in the western part of Virginia with a career opportunity in Physical Therapy. Physical Therapist Assistants work under the close supervision of a physical therapist to provide therapy for patients to improve mobility, to relieve pain, and to lessen the functional limitations that occur as a result of a physical disability. For more information about the Physical Therapist Assistant program at WCC visit www.wcc.vccs.edu/pathways or contact Julia Jackson King, PT, WCC Physical Therapist Assistant Program Head at jjacksonking@wcc.vccs.edu.
###