The Wytheville Community College Concert Band, under the direction of Frank Pugh, will celebrate its 30th anniversary with a holiday concert on Tuesday, Dec.3, 2019, at 7:00 p.m. at Legacy Church at 2150 West Ridge Road in Wytheville. Arrive early to catch glimpses of the band's treasured 30 year history.
"Wytheville Community College is very fortunate to be able to sponsor the WCC Concert Band," said Dr. Dean Sprinkle, WCC President. "We sincerely appreciate the many talented musicians who volunteer their time to provide cultural programs for our community. I encourage everyone to attend the special upcoming 30th Anniversary Holiday Concert."
The performance entitled "On The Road To The Holidays" will include seasonal selections from traditional composers such as Gustav Holst and Ralph Vaughan Williams. Pop hits like Lindsey Buckingham's "Holiday Road" and "Merry Christmas, Darling" from the Carpenters will also be featured.  Time-honored favorites and familiar holiday melodies will round out the evening.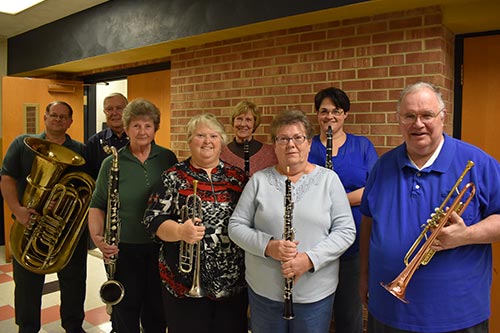 The community band began in 1989 when Dr. Jack O. White returned to Wytheville as an adjunct professor at Wytheville Community College. White recruited many of his former students from his time as the George Wythe High School band director to establish the WCC Concert Band. Since its inception, the band has been comprised of community members, college students and gifted high school students from throughout WCC's service region. The band remained under the direction of White until 1998 when Bill Svec, another former GWHS band director and local WYVE radio host, took the baton. Svec led the band another 15 years before retiring in 2013.
The current director, Frank Pugh, has served since 2014 and is no stranger to the community. Like his predecessors, Pugh serves as a high school band director. Pugh is a 1987 graduate of George Wythe High School and has served as the band director at Fort Chiswell High School and Middle School over the past 23 years. The WCC Concert Band consists of community members from Bland, Carroll, Montgomery, and Pulaski Counties as well as Galax and Radford Cities.
"I think it's wonderful that the WCC Community Band has been around for 30 years! The dedicated musicians, a supportive community, and a strong partnership with Wytheville Community College have all created an environment where music can thrive and enrich the lives of people," said Pugh. "It's a testament to the value of arts in our area, and I look forward to seeing it play on for decades to come."
The concert is free of charge, but donations to the "Bill Svec Endowment" are gladly accepted to help support band costs such as purchasing music. A reception honoring the WCC Concert Band will follow the concert.
###