On December 3, representatives from Wytheville Community College (WCC) and Bluefield College (BC) signed the "Return to Roots Teaching Initiative" that is designed to help meet the demand for teachers in the region. The initiative provides the opportunity for students to begin their education pathway at WCC while taking select classes at BC. It also provides guaranteed admission to BC after completion of an associate degree in education at WCC. In addition to guaranteed admission, students will also benefit from discounted tuition at BC. The "Return to Roots Teaching Initiative" will provide partnerships with local school divisions to allow participants priority placement as student teachers and opportunities for employment interviews.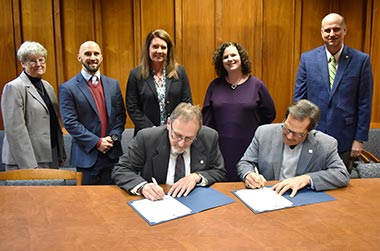 "The partnership between Bluefield College and WCC provides a tremendous opportunity for our students," said Dr. Dean Sprinkle, WCC President. "It helps fulfill WCC's mission of providing career growth and economic development for the region."
The "Return to Roots Teaching Initiative" is designed to address the increasing need for teachers. In recent years the Commonwealth and the nation have seen a steady decline in public school staffing, primarily due to the number of teachers who are retiring and the changing licensure requirements. Virginia alone saw a shortage of nearly 940 public school teachers in 2018, according to a report by The Washington Post in July.
Students who are interested in learning more about the "Return to Roots Teaching Initiative" should contact Susan Evans, Program Head of Education, at sevans@wcc.vccs.edu or (276) 223-4740.
WCC provides a wide selection of academic and training programs that meet the need of individuals in Bland, Carroll, Grayson, Smyth, Wythe Counties, and Galax City. WCC was recently recognized by the U.S. Department of Education's College Affordability and Transparency List as the most affordable college in Virginia due to the availability of financial aid and scholarships. Visit wcc.vccs.edu to find out more or call (276) 223-4700.
###