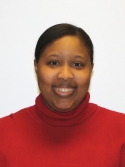 Instructional Technologist
Office Hours:
Monday to Friday: 8 am to 5 pm
Personal Information
Degrees and Certifications:
M.B.A.
B.S., Computer Information Management Systems
Special Interests:
I enjoy cooking and watching cooking shows, spending time with family, and relaxing.
The best thing about working at WCC is...:
...the people. Since I started at WCC, everyone has been so kind and helpful. They have really made my transition here seamless. This is a great institution, and I can't to see what the future holds at WCC.