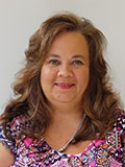 Assistant Professor, Human Services
Office Hours:
Monday - Crossroads - 9:00-11:00 a.m.
Tuesday - WCC Main Campus - 9:00-11:00 a.m.
Wednesday - Crossroads - 9:00-11:00 a.m.
Thursday - WCC Main Campus - 9:00-11:00 a.m.
Friday - By Appointment
Personal Information
High School Attended:
Grayson County High School
Degrees and Certifications:
A.A.S. General Studies, Wytheville Community College
B.S. Criminal Justice, Radford University
M.S. Mental Health Counseling, Walden University
Master in Public Administration, Walden University
Community Service Activities:
Volunteer with the Southwest Medical Reserve Core
Special Interests:
Mental Health Advocacy
Strengthening the System of Care for Children with an Emotional Disturbance
Fairness in Sentencing for Minorities
Animal Assisted Therapy
The best thing about working at WCC is...:
...the students. WCC students have an energy for learning that is contagious to those of us who are fortunate enough to work with them. I love the opportunity to work with the traditional student as well as the non traditional student. I find that the students teach me something new in every class.
Current Teaching Schedule
Human Services
HMS 100: Introduction To Human Services

HMS 100 Introduces human service agencies, roles and careers. Presents an historical perspective of the field as it relates to human services today. Additional topics include values clarification and needs of target populations. Lecture 3 hours per week.

| Class Number | Credits | Days | Dates | Time | Location | Building | Room | Class Section | Instruction Mode | Instructor | Class Notes |
| --- | --- | --- | --- | --- | --- | --- | --- | --- | --- | --- | --- |
| 40724 | 3 | ~~~~F~~ | 2019-08-23 - 2019-08-23 | 13:00:00 - 15:00:00 | MAIN | Smyth Hall | 0130 | 1HV | Interactive Classroom Video | Haga,Kristie Michelle | This hybrid course meets Fridays on Main Campus in Smyth Hall 122 from 1 p.m. to 3 p.m. on the following dates: 8/23, 9/6, 9/20, 10/4, 10/18, 11/1, 11/15. Online coursework required. |
| 40724 | 3 | ~~~~F~~ | 2019-11-15 - 2019-11-15 | 13:00:00 - 15:00:00 | MAIN | Smyth Hall | 0130 | 1HV | Interactive Classroom Video | Haga,Kristie Michelle | This hybrid course meets Fridays on Main Campus in Smyth Hall 122 from 1 p.m. to 3 p.m. on the following dates: 8/23, 9/6, 9/20, 10/4, 10/18, 11/1, 11/15. Online coursework required. |
| 40724 | 3 | ~~~~F~~ | 2019-11-01 - 2019-11-01 | 13:00:00 - 15:00:00 | MAIN | Smyth Hall | 0130 | 1HV | Interactive Classroom Video | Haga,Kristie Michelle | This hybrid course meets Fridays on Main Campus in Smyth Hall 122 from 1 p.m. to 3 p.m. on the following dates: 8/23, 9/6, 9/20, 10/4, 10/18, 11/1, 11/15. Online coursework required. |
| 40724 | 3 | ~~~~F~~ | 2019-10-18 - 2019-10-18 | 13:00:00 - 15:00:00 | MAIN | Smyth Hall | 0130 | 1HV | Interactive Classroom Video | Haga,Kristie Michelle | This hybrid course meets Fridays on Main Campus in Smyth Hall 122 from 1 p.m. to 3 p.m. on the following dates: 8/23, 9/6, 9/20, 10/4, 10/18, 11/1, 11/15. Online coursework required. |
| 40724 | 3 | ~~~~F~~ | 2019-10-04 - 2019-10-04 | 13:00:00 - 15:00:00 | MAIN | Smyth Hall | 0130 | 1HV | Interactive Classroom Video | Haga,Kristie Michelle | This hybrid course meets Fridays on Main Campus in Smyth Hall 122 from 1 p.m. to 3 p.m. on the following dates: 8/23, 9/6, 9/20, 10/4, 10/18, 11/1, 11/15. Online coursework required. |
| 40724 | 3 | ~~~~F~~ | 2019-09-20 - 2019-09-20 | 13:00:00 - 15:00:00 | MAIN | Smyth Hall | 0130 | 1HV | Interactive Classroom Video | Haga,Kristie Michelle | This hybrid course meets Fridays on Main Campus in Smyth Hall 122 from 1 p.m. to 3 p.m. on the following dates: 8/23, 9/6, 9/20, 10/4, 10/18, 11/1, 11/15. Online coursework required. |
| 40724 | 3 | ~~~~F~~ | 2019-09-06 - 2019-09-06 | 13:00:00 - 15:00:00 | MAIN | Smyth Hall | 0130 | 1HV | Interactive Classroom Video | Haga,Kristie Michelle | This hybrid course meets Fridays on Main Campus in Smyth Hall 122 from 1 p.m. to 3 p.m. on the following dates: 8/23, 9/6, 9/20, 10/4, 10/18, 11/1, 11/15. Online coursework required. |
| 44084 | 3 | ~~~~F~~ | 2019-08-23 - 2019-08-23 | 13:00:00 - 15:00:00 | CREI | Crossroads Institute | 0205 | 72HV | Interactive Classroom Video | Haga,Kristie Michelle | This hybrid course meets Fridays at Crossroads in Galax, VA from 1 p.m. to 3:00 p.m. on the following dates: 8/23, 9/6, 9/20, 10/4, 10/18, 11/1, 11/15. Online coursework required. |
| 44084 | 3 | ~~~~F~~ | 2019-11-15 - 2019-11-15 | 13:00:00 - 15:00:00 | CREI | Crossroads Institute | 0205 | 72HV | Interactive Classroom Video | Haga,Kristie Michelle | This hybrid course meets Fridays at Crossroads in Galax, VA from 1 p.m. to 3:00 p.m. on the following dates: 8/23, 9/6, 9/20, 10/4, 10/18, 11/1, 11/15. Online coursework required. |
| 44084 | 3 | ~~~~F~~ | 2019-11-01 - 2019-11-01 | 13:00:00 - 15:00:00 | CREI | Crossroads Institute | 0205 | 72HV | Interactive Classroom Video | Haga,Kristie Michelle | This hybrid course meets Fridays at Crossroads in Galax, VA from 1 p.m. to 3:00 p.m. on the following dates: 8/23, 9/6, 9/20, 10/4, 10/18, 11/1, 11/15. Online coursework required. |
| 44084 | 3 | ~~~~F~~ | 2019-10-18 - 2019-10-18 | 13:00:00 - 15:00:00 | CREI | Crossroads Institute | 0205 | 72HV | Interactive Classroom Video | Haga,Kristie Michelle | This hybrid course meets Fridays at Crossroads in Galax, VA from 1 p.m. to 3:00 p.m. on the following dates: 8/23, 9/6, 9/20, 10/4, 10/18, 11/1, 11/15. Online coursework required. |
| 44084 | 3 | ~~~~F~~ | 2019-10-04 - 2019-10-04 | 13:00:00 - 15:00:00 | CREI | Crossroads Institute | 0205 | 72HV | Interactive Classroom Video | Haga,Kristie Michelle | This hybrid course meets Fridays at Crossroads in Galax, VA from 1 p.m. to 3:00 p.m. on the following dates: 8/23, 9/6, 9/20, 10/4, 10/18, 11/1, 11/15. Online coursework required. |
| 44084 | 3 | ~~~~F~~ | 2019-09-20 - 2019-09-20 | 13:00:00 - 15:00:00 | CREI | Crossroads Institute | 0205 | 72HV | Interactive Classroom Video | Haga,Kristie Michelle | This hybrid course meets Fridays at Crossroads in Galax, VA from 1 p.m. to 3:00 p.m. on the following dates: 8/23, 9/6, 9/20, 10/4, 10/18, 11/1, 11/15. Online coursework required. |
| 44084 | 3 | ~~~~F~~ | 2019-09-06 - 2019-09-06 | 13:00:00 - 15:00:00 | CREI | Crossroads Institute | 0205 | 72HV | Interactive Classroom Video | Haga,Kristie Michelle | This hybrid course meets Fridays at Crossroads in Galax, VA from 1 p.m. to 3:00 p.m. on the following dates: 8/23, 9/6, 9/20, 10/4, 10/18, 11/1, 11/15. Online coursework required. |
HMS 121: Basic Counseling Skills I

HMS 121 Develops skills needed to function in a helping relationship. Emphasizes skills in attending, listening and responding. Clarifies personal skill strengths, deficits and goals for skill improvement. Lecture 3 hours per week.

| Class Number | Credits | Days | Dates | Time | Location | Building | Room | Class Section | Instruction Mode | Instructor | Class Notes |
| --- | --- | --- | --- | --- | --- | --- | --- | --- | --- | --- | --- |
| 40727 | 3 | ~~~R~~~ | 2019-08-21 - 2019-12-18 | 09:30:00 - 12:30:00 | MAIN | Carroll Hall | 0225 | 1 | In Person | Haga,Kristie Michelle | Course fee $19 for book. |
| 40728 | 3 | ~T~~~~~ | 2019-08-21 - 2019-12-18 | 18:00:00 - 20:50:00 | CREI | Crossroads Institute | 0172 | 72 | In Person | Haga,Kristie Michelle | Course fee $19 for book. |
HMS 290: Coordinated Internship

HMS 290 - Coordinated Internship (1 - 5 credits) Supervises on-the-job training in selected business, industrial or service firms coordinated by the college. Application to all occupational-technical curricula at the discretion of the college. Laboratory: 9 per week Credit/practice ratio not to exceed 1:5 hours. May be repeated for credit. Variable hours.

| Class Number | Credits | Days | Dates | Time | Location | Building | Room | Class Section | Instruction Mode | Instructor | Class Notes |
| --- | --- | --- | --- | --- | --- | --- | --- | --- | --- | --- | --- |
| 40734 | 3 | MTWRFSU | 2019-08-21 - 2019-12-18 | 01:45:00 - 01:46:00 | VIRTUAL | Virtual | 1 | 95 | Online w/E-Rate | Haga,Kristie Michelle | |
Psychology
PSY 230: Developmental Psychology

PSY 230 Developmental Psychology ( 3 CR) Studies the development of the individual from conception to death. Follows a life-span perspective on the development of the person's physical, cognitive, and psychosocial growth. Lecture 3 hours per week.

| Class Number | Credits | Days | Dates | Time | Location | Building | Room | Class Section | Instruction Mode | Instructor | Class Notes |
| --- | --- | --- | --- | --- | --- | --- | --- | --- | --- | --- | --- |
| 40985 | 3 | M~W~~~~ | 2019-08-21 - 2019-12-18 | 11:00:00 - 12:15:00 | MAIN | Carroll Hall | 0228 | 1H | Hybrid | Haga,Kristie Michelle | Class meets on Mondays from 11 a.m. to 12:15 p.m. in Fincastle Room 15. The cost of the access code required for this course is $72 which is included with the cost of tuition. You may access the course on 8/21. |
PSY 250: Law Enforcement Psychology

PSY 250 Studies the psychology of police work in interpersonal or intergroup situations. Includes topics such as prejudice, suggestion, emotion, frustration, and aggression. Prerequisite PSY 100, 125, or divisional approval. Lecture 3 hours per week.

| Class Number | Credits | Days | Dates | Time | Location | Building | Room | Class Section | Instruction Mode | Instructor | Class Notes |
| --- | --- | --- | --- | --- | --- | --- | --- | --- | --- | --- | --- |
| 40992 | 3 | ~T~R~~~ | 2019-08-21 - 2019-12-18 | 12:30:00 - 13:30:00 | MAIN | Carroll Hall | 0220 | 1 | In Person | Haga,Kristie Michelle | |
Student Development
SDV 100: College Success Skills

SDV 100 - Assists students in transition to colleges. Provides overviews of college policies, procedures, curricular offerings. Encourages contacts with other students and staff. Assists students toward college success through information regarding effective study habits, career and academic planning, and other college resources available to students. May include English and math placement testing. Strongly recommended for beginning students. Required for graduation. Lecture 1 hour per week.

| Class Number | Credits | Days | Dates | Time | Location | Building | Room | Class Section | Instruction Mode | Instructor | Class Notes |
| --- | --- | --- | --- | --- | --- | --- | --- | --- | --- | --- | --- |
| 41272 | 1 | ~~~~F~~ | 2019-08-21 - 2019-10-31 | 09:00:00 - 10:15:00 | CREI | Crossroads Institute | 0177 | 73 | In Person | Haga,Kristie Michelle | |