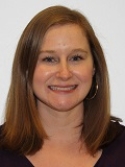 Office Hours:
Monday-Wednesday 8 a.m. - 5 p.m.
Thursday 8 a.m. - 12:30 p.m.

Personal Information
Degrees and Certifications:
B.S. in Biology from James Madison University
Microsoft Office Specialist (Word, Excel, Outlook)
Special Interests:
I enjoy traveling with my husband, David, and our two fur babies, Sam and Ollie.
The best thing about working at WCC is...:
The people. Hands down. Ever since my first day here as a student, I have felt welcome. As an employee, it is great to come to work knowing I am surrounded by support and kind words.