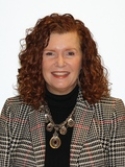 Vice President of Instruction & Student Development
Office Hours:
Monday - Friday: 8 a.m.- 5 p.m.
Personal Information
Degrees and Certifications:
Ph.D. Health Science Education and Research: TUI University
M.S. Transfusion Medicine: University of Cincinnati College of Medicine
B.S. Medical Technology: Roanoke College
Certified by American Society of Clinical Pathology in Medical Technology and as a Specialist in Blood Banking
Awards:
Improvement of Instruction Award, WCC
Educator of the Year Award, Virginia Society of Clinical Laboratory Sciences
State Finalist for SCHEV Outstanding Faculty Award
NISOD Excellence Award presented by the National Institute for Staff and Organizational Development (NISOD) Community College Leadership Program, The University of Texas
Young Investigators' Paper Presentation Award at the Ohio Association of Blood Banks
Sigma Tau Award for Research in Aging, National Student Research Forum
Community Service Activities:
Wythe-Bland Chamber of Commerce Board of Directors
Special Interests:
Spending time with family and friends
Reading, knitting, and painting
The best thing about working at WCC is...:
...making a difference in the lives of the students we serve.