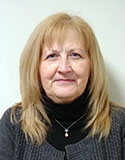 Associate Professor, Accounting
Office Hours:
Tuesday - 9:30 a.m.-1:30 p.m.
Thursday - WCC Main Campus - 9:30 a.m. - 1:30 p.m. and Crossroads - 3:30 - 5:30 p.m.

Personal Information
Degrees and Certifications:
Business Administration w/concentration in Accounting, University of Virginia's, College at Wise: Bachelor of Science -
Master of Accountancy, Virginia Tech
Awards:
2011 - Improvement of Instruction Award
Community Service Activities:
Sunny Hills Community Church
Wythe Bland Region Master Gardener Association: Project Leader, WCC Learning Gardens
The best thing about working at WCC is...:
...being able to impact students' lives. Education provides choices.
Current Teaching Schedule