Southern Fried Funeral Opens at Wytheville Community College March 31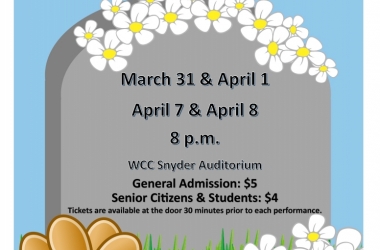 Wytheville Community College Theatre presents Southern Fried Funeral, a lively comedy about life, death, and family—Southern style! Performances of Southern Fried Funeral will be held March 31, April 1, April 7, and April 8, 2017, at 8 p.m. each evening in WCC's Snyder Auditorium located at 1000 E. Main Street in Wytheville.
Written by J. Dietz Osborne and Nate Eppler, Southern Fried Funeral begins with the untimely passing of Mississippi native Dewey Frye and focuses on those he has left behind. Funerals can bring out the best and worst in families, and this family—not to mention well-meaning friends and nosey neighbors—is no exception. 
Smack in the middle is Dorothy (played by Tina Edwards), Dewey's loving wife of 40 years, who now has to deal with all the funeral details while simultaneously dealing with a big hole in her heart. Back home for the funeral after a 10-year absence, is wild-child and oldest daughter Harlene (played by Shaly Farmer), who is immediately confronted by younger sister Sammy Jo (played by Amanda Johnson), an overachiever intent on taking charge. These two have a sibling rivalry that has simmered for a long time, and it looks like it just might boil over at the funeral.
Supporting Mama Dorothy through her many trials are her naïve youngest child, Dewey, Jr. (played by Travis King) and her good friends (played by Lorrainea Burcham, Sharon Taylor, and Mary Wright), whose help she is definitely going to need in order to deal with her smarmy brother-in-law (played by Robert Burnett). Add to the mix a domineering neighbor (played by Carol Easter), a sometimes beau (played by G. Clint Helton), and a long suffering husband (played by Patrick Ford), and you've got laugh-out-loud comedy.
Janice Pryor, who is directing the show with lots of help from fellow director Robert Burnett, said, "I chose this show because it is a comedy with heart. Sure, there are lots of laughs, even some slapstick, but there are some tender moments as well. These characters get to you, and the feelings and situations portrayed are ones I think will appeal to our audience."
Of course, no theatre production is complete without a setting and lights. "We are really excited about our set," says Pryor. "Roger Dean Grubb has created a wonderful kitchen on stage that makes the Frye family and friends feel right at home. Robert Burnett (lighting design) and Coyote Edwards (lighting and sound operator) are making sure the audience won't miss any of the action."
Tickets for the show, which are $5 for general admission and $4 for students and senior citizens, will be available at the door 30 minutes before each performance. For more information about the WCC Theatre Program, visit www.wcc.vccs.edu/wcc-theatre or email wcctheatre@wcc.vccs.edu.