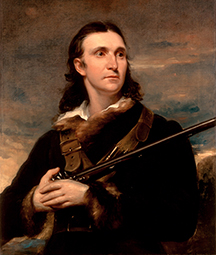 Wytheville Community College, as part of its 50th Anniversary Celebration, will present a special lecture entitled "John James Audubon: America's Naturalist," on Thursday, April 17, in Room 122, Smyth Hall, on the WCC main campus.
The event will begin at 7 p.m. and end at 8 p.m.
The presenter will be Cindy Kincer, WCC biology faculty member. Kincer's presentation will highlight the life and methodology of John James Audubon. The program will include an exhibit of Audubon's artwork, brochures from the Audubon Society, and information on how to attract birds and other pollinators to your own backyard. The lecture will be of interest to anyone who has an appreciation for birds, art, and conservation.
Audubon (1785-1851) was a French-American ornithologist, naturalist, and painter. He was notable for his expansive studies that documented all types of American birds and for his detailed illustrations that depicted the birds in their natural habitats. His major work, a color-plate book entitled The Birds of America (1827–1839), is considered one of the finest ornithological works ever completed. Audubon identified 25 new species.
Kincer joined the WCC faculty in 2005. She earned her associate's degree from WCC in 1980, her bachelor's degree from Mars Hill College in 1982, and her master's degree from ETSU in 1989.
The event is free and open to the public.