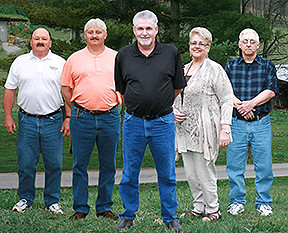 The Bluegrass Kinsmen
Wytheville Community College is sponsoring its free monthly Bluegrass and Old-Time Jamboree, this time featuring the Bluegrass Kinsmen and the Zephyr Lightning Bolts on Saturday, April 19, from 7-9 p.m.
The Jamboree will be held in the William F. Snyder Auditorium on the WCC campus, located at 1000 East Main Street in Wytheville.
Today, after more than 40 years, the Bluegrass Kinsmen are still going strong. The current band is made up of core members Shelby and Ebby Jewell, the founding members of the band, and brothers Tony and Jeff Brown, all of the Tazewell County area.  Ebby, Tony, and Jeff are bluegrass music instructors in the Traditional Music Program at Southwest Virginia Community College near Richlands, Virginia. Shelby is a music instructor for the Pick Program (Playing Instruments Changes Kids) in nearby Buchanan County. The Bluegrass Kinsmen have played more than 1,500 shows over the years in 10 different states (as far away as Texas), averaging 45- 50 engagements a year. They also have four albums to their credit.
The Zephyr Lightning Bolts is an old-time band from Zephyr, NC. The group plays at local square dances and street festivals in the Piedmont area. They also placed several years running at the world famous Galax Fiddler's Convention.
The Zephyr Lightning Bolts will perform from 7-8 p.m. and the Bluegrass Kinsmen will perform from 8-9 p.m. The doors will be open at the William F. Snyder Auditorium beginning at 6 p.m. Seating is on a first-come, first-served basis.
The event is free and open to the public. Donations will be accepted to help defray the travel expenses of the bands.